Trailer
Finally got the trailer back from the shop, they had to completely replace the AC unit.  The compressor went bad.  Good thing I have the extended warranty!!  While I was at Camping World, I saw that they had covers on sale, so I decided to grab one and put it on yesterday.  I can tell you for sure, that putting the cover on is not a one person one ladder job!
Well, is just nice to have the AC  fixed, and the trailer back….. Now for a free weekend….. Lol.
Today we loaded up and headed towards Lumber River Campgrounds for our Labor Day Weekend Trail Ride!!!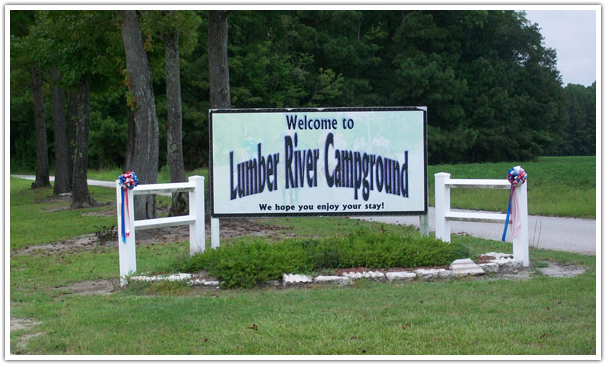 Started out OK, as I forgot some important paperwork at the house and had to head back home…..but the afternoon turned out perfectly.  The weather was great for setting up the corals and the camper.  Plus, I had Patrick and Sandra with me, so that makes it so much better!!!!
Did a short ride around the campground, I will post the map and get the link in HERE (look for the edit!)  This is Gunner's first trail ride, so we had some minor fear issues, he was afraid of just about anything you could imagine…LOL, trailers, people, playground equipment, etc…but we worked through it.   Tomorrow's ride will be much longer, and hopefully not too hot!!
I will add more as the days go!!
Spent this evening sweeping and mopping the trailer, doing some straightening and cleaning sheets and towels.  Patrick helped me, and is going to finish cleaning the tub and the bathroom tomorrow.
As for Patrick and his interview, it seems to have gone well.  He said it lasted about 45 minutes, and was told that he should be receiving a call tonight or tomorrow to  hear what the decision was.  He said they indicated that it was part time employment, and that he would be working in the Garden and Outdoor section.  He sounded a little disappointed that it was part time, but he was happy just to have an interview and the possibility of job.
Patrick has been helping immensely around the house, and I am thankful for that.  I am hoping that he does find a good job, and that he continues to assist around the house as well!!!!
Before we cleaned the trailer out, we did go to 601 Sports bar in Dunn to shoot a couple games of pool and have a beer.  It was a nice time to spend with Patrick, no worries or concerns, just fun time with my son!
I am definitely looking forward to this weekend's trail ride with Sandra and Patrick.  This will be the first trail ride that all 3 of my boys will be on!!  I am sooooo looking forward to seeing how they do; I know Blizzard and Quest will do awesome, it is Gunner that I am wondering about!!